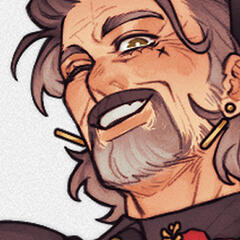 Muppet
Illustrator | Writer | She/They | Bi
Jim Henson reject. Like to watch LOTR on repeat.
About | faq
About Me
I'm an illustrator who loves to explore emotions and fantasy through art.

I'm fond of both sweet and lighthearted themes that showcase found families and self-acceptance as well as darker themes that focus on horror and revenge arcs.

Likes to draw: angels/demons, divine imagery, body horror, fluff, anatomy (eyes, hands & muscles).

Juggles multiple fandoms simultaneously. Also juggles in my spare time.

Currently suffering gay pirate shows (OP & OFMD) & Bleach
FAQ
Programs: Clip Studio Paint | Photoshop CS6

Tablet: Wacom Intuos CTH-480

Art Usage: Fanarts are open for personal use as platform icons, banners, etc. w/ credit

Controller: TourBox Neo

Reposting: Reposts/edits are not allowed. Artwork may be used for personal icons/banners with credit.

Artwork for tattoos: Please ask permission to use existing artwork for tattoos with a fee of $50 per piece.
Commissions
STATUS: Commissions are closed! No waitlist at the moment. Please DM for inquiries.

WAITLIST: Waitlist is open to Nico Robin/Izzy Hands/Kurotsuchi Mayuri related commissions. (I just wanna... draw them so bad)

FOR USE: For personal use only. Open to discussing for commercial works.

Contact: Twitter DMs or email at: [email protected]
Send a DM through Twitter to reserve a slot!

Payment is upfront and through Paypal only.

A sketch will be sent 1-5 days after payment (in case of edits). Can choose between updates or a finished work surprise.

Turnaround time is 2-4 weeks with any delays (due to emergencies, etc) reported in advance.

All fanart commissions (excluding personal pieces and those that include OCs) are subject to being uploaded to INPRNT (due to popular demand & general agreement from previous clients). If you'd prefer it not to be uploaded into INPRNT, please mention it through DMs. I'll send another inquiry regarding this after the final piece has been sent as well.

Any desired edits to the final piece would entail an additional fee (depending on the complexity).

This is also a personal commission, and the client may reproduce the final artwork (into prints, shirts, etc) as long as it is not for profit.

Commissions are non-refundable. Thank you!
Interests
Latches on to faves and never lets go. Goes through fanwork & content like hot potato.
Media
Avatar: The Last Airbender

Bleach

DC/DCAU ( Green Lantern/Justice League )

DC Arrowverse ( The Flash/LOT )

Dorohedoro

Eyeshield 21

Fate ( FGO )

Golden Kamuy

Good Omens

Grimm

How To Train Your Dragon

Hypnosis Microphone ( B.A.T. )

Ice Age

Jojo's Bizzare Adventures

Kipo and The Age of Wonderbeasts

Lord of The Rings

Mandy

One Piece

Our Flag Means Death

Rise of The Guardians

Spider-Man: Into The Spider-Verse

Star Trek ( TOS/AOS/TNG )

The Muppets

Transformers ( G1/Prime/IDW )
---
FAVES
them...
---